Brian and I are (happily!) getting rather inundated with requests to be on Hecklers' Hangout. We thought we'd try to use a sign-up form so that you can see what dates are available. All shows are scheduled for 7 PM ET. Please simply leave a comment under the date you're interested in and let us know what you would like to talk about – new technology, a new book you've authored, or a "how to" topic. If you have any questions, let us know!
Sign up to be a guest on Hecklers' Hangout!
Here are the available dates! Put your name and topic in and we'll get in touch to let you know if that will work!
Nick Kellet will be joining us to talk all about List.Ly - which you're seeing in use right here!
2
Thursday, October 25, 2012
Rantitude will be with us - as in, John Boyle and Dan Newman. Sure to be a wild ride! :)
3
Thursday, October 11, 2012

Olivier Blanchard will be showcasing Tickr, a new social visualization tool.
4
Thursday, October 18, 2012

Dawn Rasmussen will be talking to us about her brand new book!
5
November 1, 2012

Join Paul Biedermann and Peg Fitzpatrick to talk about 12 Most. What is 12 Most?
Savvy smartitude for busy professionals in easy-to-digest list posts that mean business.
12 Most is a dynamic community of influential, globally-renowned writers and business experts publishing THE BEST LIST POSTS on the web, period!
Focused on Business, Media and Lifestyle topics, the site has drawn the attention of some of the most highly-respected people in the business and media worlds.
Added by Peggy Fitzpatrick on Sep 17, 2012

Gini Dietrich, author of Marketing in the Round
For years, organizations have been bedeviled with organizational silos that prevent them from conversing with customers in a coherent voice, delivering the right messages to each customer, and building real synergies across all their marketing and communications programs.
Added by Brian Vickery on Sep 18, 2012
Triberr is a website for bloggers interested in increasing their reach. Dino Dogan will be joining us to talk about all of the new bells and whistles Triberr offers!

Inkling Media is an inbound marketing shop based in Lancaster, PA with an emphasis on social media. We provide consultation on utilizing social media as part of an overall marketing strategy. In addition to Social Media, we work with you to help implement a strong blogging plan, as well as organic search engine optimization.
10
Thursday, November 29, 2012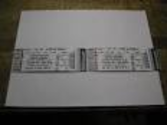 Jason Konopinski will be talking about his awesome new podcast, Riffing on WRiting!